B E S T / /O F


Sit back and enjoy tales of television long ago -
this blog covers current and classic TV shows
and reviews of upcoming television programs
along with the latest TV on DVD releases!
---
AROUND THE TV DIAL
The Soupy Sales Show is airing on The Jewish Network. Who knew?
Looking to watch classic TV shows on your Sprint HTC Evo G4 - here's the info you'll need to find hundreds of shows, entire runs of series like Batman, Lost In Space, Star Trek, Perry Mason and dozens more.
Katie Couric is leaving CBS News, if anyone cares, and Meredith Viera may be leaving Today.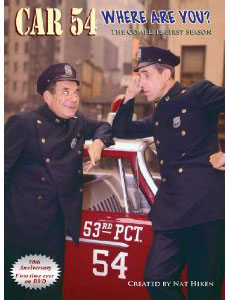 The complete first season of Car 54 Where Are You? is out on DVD.
Wednesday, April 6, 2011 - 9:25am
WOULD YOU LIKE TO RESPOND?
CLASSIC TV BLOGGING
(On seeing a former lover for the first time in years) "I thought I told you to wait in the car!"
- Tallulah Bankhead
Be sure and check out L. Wayne Hicks' interview with Sherwood Schwartz, it's packed with fascinating stories about TV's golden age and the creation of Gilligan's Island, The Brady Bunch, It's About Time, Red Skelton Show and more. There are lots of stories here I haven't heard before. And what does the legendary writer/producer think of the current cop of sitcoms? You'll love it!
Check out the Cleveland Classic Media Blog, it covers various subjects from Vintage Cleveland/Northeast Ohio Radio and TV from the 1940's onward using TV Guide ads, photos and many times, vintage TV schedules.
Does anyone have episodes of The Virginia Graham Show? I've never come across a single one. And why isn't The Ghost & Mrs. Muir on DVD yet?
Saturday, March 26, 2011 - 8:05am
WOULD YOU LIKE TO RESPOND?
RANDOM STUFF
Here's a neato short called Horse I appeared in recently, the director Seth Hall wants to make it into a feature and this is sort of a sample. I appear at the end as the frenzied announcer. It was fun because I got to improv.

10 Television Shows That Should Be Remade.
Here's a groovy commercial for doctor recommended cigarettes.
This is a very funny clip from New York's version of Romper Room hosted by Miss Mary Ann. The Romper Room teacher gets way flustered when one of the kiddies starts talking about his firearm.
Thursday, March 3, 2011 - 9:05am
WOULD YOU LIKE TO RESPOND?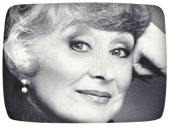 HAPPENINGS
Kevin Butler writes: Actress/singer and dancer Betty Garrett who played Mrs. Irene Lorenzo on "All In The Family" and Edna Babbish the landlady who would later become Laverne DeFazio's (Penny Marshall's) stepmother on "Laverne & Shirley" has died from an Aortic Aneurysm at The Ronald Reagan Medical Center in California, she was 91 years old. Read more about Betty Garrett's life here in the Classic TV site TVparty!
If sales through this site are any indication, WPIX's local kid show The Magic Garden on DVD is a hot seller. Not surprising, kids who grew up with this show loved it and want to either relive the experience or share it with their kids. Will other stations take a look at what pitiful remnants they have left from their kiddie programs and start thinking in terms of a DVD release? People are always asking about purchasing copies of local TV shows but they are very very rare as video tape was so expensive back then so it goit reused over and over. Many of the shows were live and never committed to tape except for an emergency episode or a week's worth.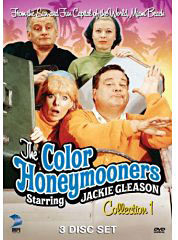 Here's something I liked a lot on DVD -The Color Honeymooners: Collection 1 - classic Honeymooners routines stretched to an hour with added musical numbers. I loved it, how can you go wrong with Art Carney and Jackie Gleason in their classic roles? Collections 2 & 3 are better than 1 which mostly concerns a trip to Europe that gets pretty outlandish and boring at times.
Saturday, February 19, 2011 - 11:09am
WOULD YOU LIKE TO RESPOND?
COMING THIS SUMMER
Two Jack Kirby creations are coming to the big screen, they both look fantastic in the previews but after the last couple of Marvel pictures I'm not so sure. Here's the long trailer for Thor, opening in May, adhering pretty closely to the original concept it appears.
Talk about staying true to the source material - Captain America The First Avenger, opening in July, is even set in World War II. Those of us familiar with the story know how it ends, icily. Note how Cap looks an awful lot like the Joe Simon / Jack Kirby creation from the 1940s.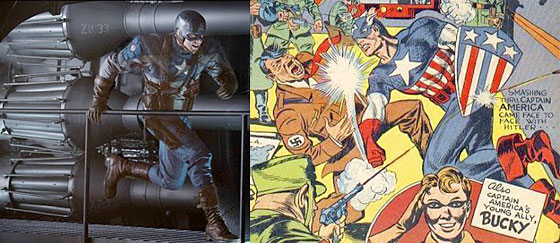 The new Captain America The First Avenger TV spot:
Monday, February 7, 2011 - 5:23am
WOULD YOU LIKE TO RESPOND?

READ PAST TELEVISION BLOG ENTRIES