B E S T / /O F


Sit back and enjoy tales of television long ago -
this blog covers current and classic TV shows
and reviews of upcoming television programs
along with the latest TV on DVD releases!
---
NEW BOOK ABOUT THE DEAN MARTIN & RAT PACK COMING!
I have a new book coming out in a few weeks - I've set up a Facebook page so you can get to know the girls the book is about, watch rare videos, and get updates about Beyond Our Wildest Dreams.
Friday, July 8, 2011 - 8:22am
WOULD YOU LIKE TO RESPOND?
HOPE!
Bob Hope writer Bob Mills has been putting on a multi-media salute to the grand old days of show business called 'Bob Hope Backstage' and has posted some clips from Bob Hope Specials on You Tube that you're sure to enjoy. Especially this gem, that I remember so well, starring Liz Taylor & Richard Burton. As you may recall, Bob's specials tended to have a theme, this one was soap operas. I should ask Bob Mills - did Hope request that he get to kiss Liz Taylor or was that just a given?
Here's another - Bob Hope's salute to the Palace Theater complete with bloopers. After listening to some radio programs I can see where Bob Hope didn't change much from radio to TV, just slowed everything down a bit.
Friday, July 8, 2011 - 7:52am
WOULD YOU LIKE TO RESPOND?
FUN STUFF!
From the press release: MemoryLane.com, the largest archive of nostalgic content, is offering exclusive clips of another American television icon, Johnny Carson! His 30-year run on late night television was chock full of entertaining and humorous skits and monologues. Today, fans can access historical videos spanning 20 years (1972-1992) and re-live the sensation that was The Tonight Show Starring Johnny Carson.

In addition, Memory Lane has added 1,001 classic television commercials from some of America's best known brands featuring memorable characters like Alka-Seltzer's Speedy, the Jolly Green Giant, Bugs Bunny, Yogi Bear and Barbie.

From the press release: It's coming soon! The Mid Atlantic Nostalgia Convention is this September 22-24, 2011 at the Hunt Valley Marriott, Maryland
Three days of nostalgic fun! Over 180 vendor tables, celebrities signing autographs, movie room runs all 24 hours, panels and seminars, live old time radio recreations on stage, drive-in movie theater outside the hotel on Friday night and much more!
PATTY DUKE (The Patty Duke Show, Valley of the Dolls)
TONY DOW (Leave It To Beaver)
DAVY JONES (The Monkees)
BILLY GRAY (Day The Earth Stood Still, Father Knows Best)
LAUREN CHAPIN (Father Knows Best)
KAREN VALENTINE (Hollywood Squares, Room 222)
CHARLES HERBERT (The Fly, Invaders From Mars)
HIGHLIGHTS
The History of Buck Rogers Slide Show Presentation
Rare screening of The Great Charlie Chan documentary
The Complete Films of Gummo Marx
Charity Auction for St. Jude Children's Hospital
The Restoration of Classic Motion Pictures
RARE MOVIE SCREENINGS
Hollywood Museum (1965)
ARSENIC AND OLD LACE (with Boris Karloff)
BEAUTY PARLOR (the "lost" 1932 movie)
Alfred Hitchcock's ELSTREE CALLING (a rarely seen Hitchcock film)
Olsen and Johnson on Television (1952)
World War II Cartoons
1954 Television Grudge Match
Queen Elizabeth (with the great Sarah Bernhart)
LEAGUE OF FRIGHTENED MEN (the 1936 "lost" Nero Wolfe movie)
Tuesday, May 28, 2011 - 7:32am
WOULD YOU LIKE TO RESPOND?
QUICK HITS
Mitchell Hadley writes: Just read your piece on Sammy Davis Jr. - I agree completely! On the original show, I've got a small bit about it on the new blog - just put it up last week. Might be of interest.
The sad story behind The Doris Day Show.

This is a page of classic cigarette ads you may enjoy.
Wednesday, May 18, 2011 - 10:16am
WOULD YOU LIKE TO RESPOND?
OOOH! OOOH!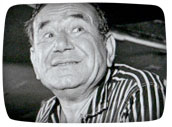 Watching Car 54, Where Are You? on DVD reminded me of how much I enjoyed the great Joe E. Ross. At least as a kid I liked him, one of those oddball performers that kept popping up here and there for no apparent reason. It certainly wasn't talent.
He started out life in show biz as a burlesque club comic, here's a cleaned up sample of his 1950's act as half of a duo with Dave Starr, crammed full of corny vaudeville routines but funny none the less.
He shot to stardom on Nat Hiken's Sgt. Bilko as the imbecilic mess sergeant, Rupert Ritzik. His trademark phrase "Oooh, Oooh" sprang from an inability to remember his lines, he was stalling until the words finally came.
But sudden fame was like lighting a match to his flame, soon the unlikely TV star was gaining a reputation in town as a hard partier who was undependable on the set. His vivacious appetite for hookers, cigarettes, fatty foods, and booze were fueled by Hollywood's open embrace for that sort of behavior. He returned to the nightclubs when Bilko was cancelled in 1959.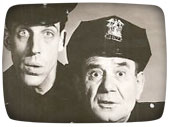 Still, his charm was irresistable to the home audience so Nat Hiken cast him as one of the leads in his new series, Car 54, where Joe E. Ross proved even more difficult to control.
Car 54 was dropped after two terms and a few years later Joe E. Ross landed the show I first saw him on, It's About Time, which I loved as a 9 year old. The kooky combo of Joe E. Ross and Imogene Coca was hard to resist. Again his co-workers complained about his loutish behavior and that one season wonder was the comedian's last primetime series.
In the 1970s he was relegated to doing cartoon voices for Hanna-Barbera where he once again resurrected his "Ooh, Oooh" catch phrase to delight a new generation. Even that career was short-lived. He died in 1982 entertaining in an apartment complex clubhouse in Van Nuys, CA. You can read Joe E. Ross' cautionary tale here.
Wednesday, April 27, 2011 - 7:56am
WOULD YOU LIKE TO RESPOND?

READ PAST TELEVISION BLOG ENTRIES